2017 China International Hosiery Purchasing Expo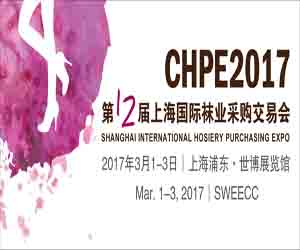 CHPE-China International Hosiery Purchasing Expo is the world's largest Socks and Hosiery industry exhibition, Every year in the beginning of March, held in Shanghai World Expo Exhibition & Convention Center. CHPE made its debut in 2005 in Shanghai, defining itself as the leading event for the fast-developing China and Asian markets. There are four major Exhibits products on CHPE: men and women fashion socks, casual socks, sports socks, terry socks this socks class, stockings, tights, Pantyhose this long socks class, and socks machine and raw materials of socks industry. Nowadays ,with 12 years Holding experience of CHPE,we committed to providing a more professional trading platform for international Socks and Hosiery business.
Reviewing of CHPE 2016, 3-days display like a biggest "socks feast" to show the world latest socks&hosiery industry fashion trend. Zhuji, Yiwu, Shanghai, Hening,Jilin Liaoyuan socks base in domestic gathered in Shanghai .Foreign exhibitors from Spain, Italy, Ukraine, Korea, Japan, India,Pakistan more than 30 international hosiery brand carriers that added more exotic international fashion to CHPE. Exhibition area cover 17000 square meters with International and national hosiery brands ,socks manufacturers, Hosiery distributors and agents, Hosiery trading companies, Hosiery machine manufacturers, Hosiery raw material producers, Underwear& accessories manufacturers ,total 412 Enterprise exhibits with more than 780 booth .
2017 CHPE is ready to hold, Exhibition date: March 1st -3rd, The exhibition venue: Shanghai World Expo Exhibition & Convention Center, hall 2. Now, we are gathering the media partner at home and abroad to expand the influence of CHPE, we will do our best to provide a better trade and communication channels for socks industry friends in the world..
Visitors
Product Directors of famous hosiery&socks brands
Purchasers of famous apparel brands
Senior fashion buyers
Shopping malls/supermarkets
Qualified retailers from 2nd & 3rd tier cities
Distributors, wholesalers, dealers,franchiees
Big-scale trading companies
E-commerce retailers of T-mall, Taobao etc.
Industry, fashion, lifestyle and mass media
Exhibitors
International and national hosiery& socks brands
Long, and socks manufacturers
Hosiery machine manufacturers
Hosiery distributors and agents
Hosiery trading companies
Hosiery raw material producers
Underwear, bra & accessories manufacturers
Leisurewear and clothing accessories
EIN News
provides powerful, real-time media monitoring, news aggregation & syndication services. Read the latest news about this topic. See: