22nd World Cardiology Conference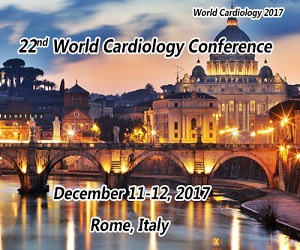 With the success of "World Cardiology 2016" in Dubai, World Cardiology Conferences team is proud to host upcoming "22nd World Cardiology Conference" during December 11-12, 2017 Rome, Italy. The event will bring together world-class cardiologists, researchers and professors to discuss strategies for prevention of coronary disease, stroke and sudden death. World Cardiology Conference 2017 is designed on the theme: "Accelerating Innovations & fostering advances in Cardio Research" that focuses to share novel approaches related to Cardiology field and exploring the challenges concerning excellence in Cardio research and advancements. The motive of the event is to generate awareness that will keep medical professionals abreast of the problems affecting the prevention, diagnosis and treatment of cardiovascular disease.
Visitors
World Cardiology Conference is a unique forum to bring together worldwide distinguished academics in the field of cardiology, cardiovascular researchers, public health professionals, scientists, academic scientists, industry researchers, scholars to exchange about state of the art research and technologies. Expert faculties will discuss the relevant advances in Cardio research and will explore the novel trends to reduce the effects of cardiovascular risk factors.
Exhibitors
The aim of this conference is stimulate new ideas for treatment and analyse the current market for the future direction of cardiovascular drugs, devices, and diagnostics, with an emphasis on newer products that will be beneficial across the spectrum of Cardiology. Lectures will provide a comprehensive state-of-the-art update of the clinical uses of various techniques in the diagnosis, prognosis, and management of common cardiovascular diseases
EIN News
provides powerful, real-time media monitoring, news aggregation & syndication services. Read the latest news about this topic. See: