4-Day MBA in Supply Chain Management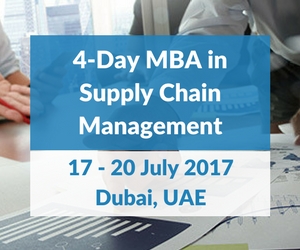 By attending this 4-day MBA in Supply Chain training, delegates will gain a strategic understanding and insights on Supply Chain. This training covers in-depth issues of Supply Chain ranging from security management to managing supplier relationship.

Day 1 and 2 of the training will kick off with Supply Chain Security Management related topics where delegates will have the opportunity to assess their current supply chain security and its vulnerabilities.All companies are vulnerable to security breaches, which may lead to Supply Chain disruptions and loss.

Day 3 and 4 will cover Supplier Relationships issues where delegates will learn how to attain the best cooperative and mutually beneficial partnerships.They will receive the latest advice and training about suppliers and the best way to correctly select, develop, manage and monitor their suppliers for better communication flows, and faster supplier responses, resulting in better supplier performance.
Visitors
Air Freight Managers; CEO's and Directors of large and small Supply Chain driven enterprises; Customs Personnel; Distributors; Factory Managers; Government Personnel; Legal Associates; Logistics Managers; Mining Companies; Oil and Gas Companies; Procurement Staff; Purchasing Managers; Rail Freight Managers; Road Freight Managers; Sea Freight Managers; Suppliers; Supply Chain Managers; Warehouse Managers
Exhibitors
N.A.
EIN News
provides powerful, real-time media monitoring, news aggregation & syndication services. Read the latest news about this topic. See: