9th Guangzhou International Solar Photovoltaic Exhibition 2017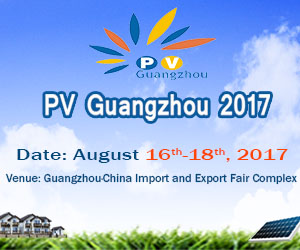 Exhibition Profile
Review of PV Guangzhou
PV Guangzhou has been held for consecutive eight years, as the professional platform to boost trading and promote brands for the global photovoltaic enterprises, covering products in all fields of the photovoltaic industry which are mainly the supply of raw material, main and auxiliary materials, mechanical equipment, photovoltaic cells, photovoltaic modules, photovoltaic engineering and photovoltaic application products. PV Guangzhou, is concurrently held with the new energy events of wind and biomass energy each year. Covering an area of 200,000 square meters, PV Guangzhou has attracted more than 1000 domestic and oversea enterprises and over 300 media at home and abroad. PV Guangzhou has developed as the influential trading service platform for Chinese enterprises to go abroad and oversea enterprises to be introduced in. Owing to the strong support by more than 80,000 professional visitors, PV Guangzhou 2016 had achieved 18,216 visitors and 1916 international purchasers, breaking through a new record ever.

Prospect of PV Guangzhou
Chinese photovoltaic industry has kept ongoing innovation and technical progress, presenting a good development trend. To response to the development scheme of photovoltaic industry during the 13th Five Year Plan, it is high time to overall facilitate the construction of distributed photovoltaic power generation and photovoltaic plant. PV Guangzhou 2017 hosted by Guangdong Grandeur International Exhibition Group, will be held in area A of China Import and Export Fair Complex on August 16th-18th, 2017, which will expand PV industry sales market and improve photovoltaic brand competitiveness. The show will offer excellent opportunities for home and abroad brands to extend world markets, providing a vital platform for companies displaying products .
Visitors
1. Government departments, development and reform commissions, research institutes, associations and decision-making bodies.
2. PV products manufacturers, agents, traders, venture capital providers, PV engineering companies and energy engineering companies.
3. Electric power planning and research institutes, power plants, power companies, power engineering companies and electrical & mechanical installation companies.
4. Departments or organizations of military, maritime, national defense, communication application, aerospace, transportation, municipal engineering and agriculture.
5. Academies of building research, urban planning and design institutes, real estate developers, architectural design consulting companies, and property management companies.
6. Solar energy industrial bases, new energy training institutions, service companies and media.
7. Professional buyers from over 40 countries and regions, including Europe, East Asia, Southeast Asia, South Asia, the Middle East, etc.
Exhibitors
1. Photovoltaic production equipment: Silicon rod silicon block silicon ingot production equipment, Silicon wafer production equipment, Battery production equipment, Solar panels/modules production equipment, Film version of the battery production equipment
2. Production technology and research equipment: Photovoltaic cells, Related PV components, PV raw material, PV project and system
3. Solar products
EIN News
provides powerful, real-time media monitoring, news aggregation & syndication services. Read the latest news about this topic. See: