5th AFRIWOOD KENYA 2018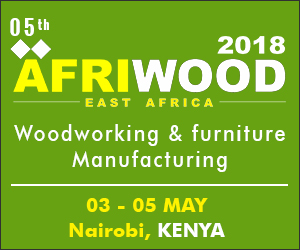 AFRIWOOD 2018 is the foremost exhibition that offers you a chance to meet wood and woodworking professionals and develop ideas for increasing the range and quality of one's business. It has a vision to be the platform for creative ideas and new technologies, as wood manufacturers and traders turn their attention towards innovative resources that would initiate business. Kenya, the hub of the East African Continent, is the place where the wood industry will meet.
AFRIWOOD 2018 is the event for the latest innovations & technologies and will become the platform of progress across the wood & woodworking sector for Africa. Exhibiting at this event will connect you with the rest of the wood industry worldwide.
Visitors
The Region's Trade Exhibition attracts top industry professionals from all over the Africa. Their Profiles includes Manufacturers, distributors, agents, Importers & Exporters etc.

Exhibitors
Exhibitors from over 18 countries that are the industry leaders dealing in high quality products, equipment and machinery on display. Prominent industry experts, stakeholders and decision makers will be in attendance, making it an ideal event to source new products, network and usher in new contacts and business opportunities.
EIN News
provides powerful, real-time media monitoring, news aggregation & syndication services. Read the latest news about this topic. See: