4th MINEXPO KENYA 2018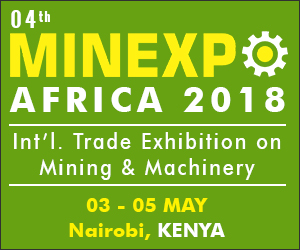 Minexpo Africa is the only show with the widest range of the latest technology in the mining & processing of minerals industry. The event will satisfy the expectations of clients to the mining companies. The latest technology and machinery in mineral extraction, earthmoving, safety equipment and much more, are presented here.

The exhibition provides a common platform for both local and international exhibitors, professionals, buyers and delegates who share a common outlook in the industry. Mining is one of the core sectors that drives growth in the East African region in terms of infrastructure and economy.
Visitors
The Region's Trade Exhibition attracts top industry professionals from all over the Africa. Their Profiles includes Manufacturers, distributors, agents, Importers & Exporters etc
Exhibitors
Exhibitors from over 15 countries that are the best in mIning, with over hundreds of products, equipment and machinery on display. Prominent industry experts, stakeholders and decision makers will be in attendance, making it an ideal event to source new products, network and usher in new contacts and business opportunities.
EIN News
provides powerful, real-time media monitoring, news aggregation & syndication services. Read the latest news about this topic. See: