4th MINEXPO TANZANIA 2018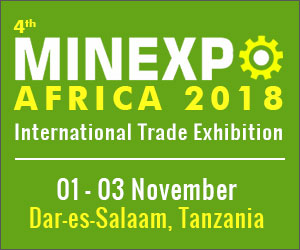 The 3rd Minexpo Africa, Tanzania is the region's showcase of the latest technology in the mining & processing of minerals, earthmoving, safety equipment and much more.Tanzania's mining industry is expected to reach $1.28 billion in 2015 according to a study by Business Monitor International (BMI). The country is the 4th largest gold producer in Africa after South Africa, Ghana and Mali. Gold production currently stands at roughly 40 tonnes a year, copper at 2980 tonnes, silver at 10 tonnes and diamond at 112670 carats.
Visitors
The Region's Trade Exhibition attracts top industry professionals from all over the Africa. Their Profiles includes Manufacturers, distributors, agents, Importers & Exporters etc
Exhibitors
With as much as 80+ exhibitors spread out over a 5,000 square mts. of exhibition space, the 2nd Minexpo Africa 2017 offers a nearly 60% increase in size from last year. More than 80+ exhibitors will be comfortably accommodated at the venue with a special showcase of the open display of machinery.
EIN News
provides powerful, real-time media monitoring, news aggregation & syndication services. Read the latest news about this topic. See: