The 9th Guangzhou International Solar Photovoltaic Exhibition 2017 (PV Guangzhou 2017)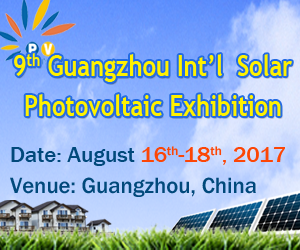 PV Guangzhou 2017 is the largest solar PV exhibition in South China, covering an exhibition area of about 30,000 sqm. Having been held for eight sessions, PV Guangzhou has many loyal exhibitors, like SAJ, Yingli, CSG, Growatt, INVT, I-Panda, ALLGRAND, GoodWe, Amerisolar, and so forth. Co-held with Biomass, Wind, Power, Battery, Electric Heating, Water Heating, Cleanroom Technology Expos, PV Guangzhou 2017 will be a great gathering for insiders from the solar and energy segment.
Visitors
Buyers, wholesalers, retailers, distributors, dealers, contractors, investors, real estate developers, government agents, associations, media, traders, policy makers, power station, transportation department, agricultural department, construction companies, etc.
Exhibitors
Manufacturers, suppliers, distributors, service providers, etc.
EIN News
provides powerful, real-time media monitoring, news aggregation & syndication services. Read the latest news about this topic. See: