The African Real Estate and Infrastructure Summit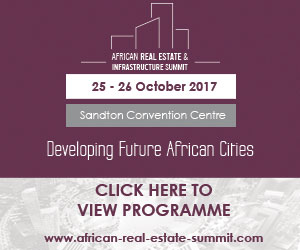 The African Real Estate & Infrastructure will see 160-180 high-level delegates in both private and public sectors, open dialogue and discuss Africa's rapid urbanisation challenges with a focus on 4 key pillars namely:

1. Urban Development
2. Mobility &Technology
3. Housing
4. Finance & Investment

The summit see's African real estate and infrastructure development projects showcased and discussed in an exhibition and conference format. The summit will assist investors seeking their next investment on the African continent within real estate and infrastructure. The summit will also see leading investment promotional agencies attend and discuss their land opportunities within their respective regions.
Visitors
Government Officials
Cities & Local Authorities
Developers
Business services
Investors
Occupiers
Exhibitors
N/A
EIN News
provides powerful, real-time media monitoring, news aggregation & syndication services. Read the latest news about this topic. See: