2018 Asia Amusement & Attraction Expo (AAA 2018)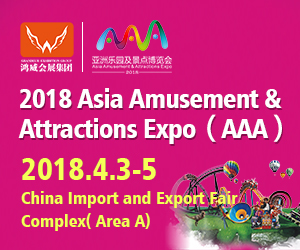 2018 Asia Amusement & Attraction Expo (AAA 2018)
Date:April 3rd-5th, 2018
Venue:China Import & Export Fair Complex, Guangzhou, China
Website: www.aaaexpos.com
Visitor Register: https://aaaexpo2018.eventbrite.com

Asia Amusement & Attraction Expo 2018 is going be to held on 03-05 April 2018 at China Import & Export Fair Pazhou Complex, China. With the exhibition area of 100,000 square meters and over 500 exhibitors, the show is born at the right moment to build an excellent platform for worldwide suppliers to tap into China and Asian markets and one-stop purchasing for global buyers.
Visitors
Visitors like Tourism and commercial real estate investors, Dealers of amusement equipment and game machines, Licensors, manufacturers, agents, dealers and retailers of related derivative products, Education departments, schools and professional training institutions, Financial institutions and insurance and venture capital institutions.
Exhibitors
Exhibitor product profile based on Theme Park, Landscape planning, designing & consulting & Engineering, Investment organizations of theme parks and scenic spots, professional service organizations of e commerce services, insurance, training, consultation, Theme parks, scenic spots & recreational projects, theme park, amusement park, museum, planning exhibition center, yacht club, golf course, zoo, aquarium, water park, haunted house, wax museum, underwater world, Supporting facilities, ticketing system, access control system, cableway, kiosk, vending machine, park bench, wooden house, mobile toilet, sightseeing bus, Equipment for science and technology centers, museums, planning exhibition centers, memorial halls, theme exhibition halls and theaters: screen system, digital TV, digital music, content creation, interactive exhibit, virtual simulation system, three dimensional display system, Parks, water parks and scenic spots equipment, roller coaster, sky wheel, carousel, bumper car, water slide, water treating equipment, rafting equipment, artificial wave, water walking ball and inflatable water toys.
EIN News
provides powerful, real-time media monitoring, news aggregation & syndication services. Read the latest news about this topic. See: