2018 Aisa VR&AR Fair & Summit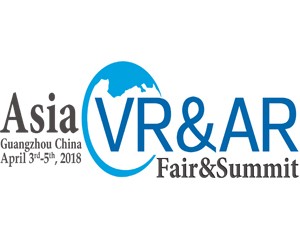 2018 Aisa VR&AR Fair & Summit
Date: April 3th-5th, 2018
Venue: China Import & Export Fair Complex, Guangzhou
Visitor Register: https://vrarfair2018.eventbrite.com
Website: http://www.vrarfair.com

China Opens Its VR & AR Market to Oversea Investors!
The development and production of VR & AR equipment have made the encouraged list of the Catalogue for the Guidance of Foreign Investment Industries (Amended in 2017) entering into force on July 28th, 2017, which means that China now officially opens its billion RMB VR & AR market to oversea capitals! In order to encourage the entry of foreign investment, Premier Li Keqiang emphasized that China would ardently protect the intellectual property rights of oversea companies. National Development and Reform Commission has also revealed that high-tech foreign companies may enjoy preferential policies such as tariff exemptions for imported equipment, priority in land use, etc.

Introduction of VR & AR Fair
Purpose of the Show:
1. Foster the development of global VR&AR industry; 2. Build an professional and efficient B platform for buyers and suppliers; 3. Bring business opportunities in different parts of China to global insiders; 4. Cultivate a consumer market for VR & AR products on a national scale by opening the show to ordinary consumers.

Average Show Scale
15,000 square meters (activity area not included)
20,000 person-time visitors (70% were professional buyers.)
120+ exhibitors

Future Vision of VR&AR Fair 2018
200 Exhibitiors 30,000 Person-times Visitors 20,000 Sq.m Show Floor

4 New Exhibition Areas!
1.VR & AR Education
2.VR & AR Home Decoration Solutions
3.VR & AR Entertainment Equipment
4.VR & AR Smart Wearable Devices



Contact
Dora Leung
Guangdong Grandeur International Exhibition Group
Phone: +86-20-29178995
Fax: +86-20-82579220
Whatsapp:+86 13066247489
E-mail: grand.je@grahw.com
Add:Room 301,No.7,the First Street of Kehui , Kexue Avenue, Science City, Huangpu District, Guangzhou ,China.

Visitors
Target Visitors
Importers, Exporters, Distributors, Dealers, Retailers, Wholesalers, TV show producers, Theme park investors, Educators, Designers, Suppliers, Manufacturers, Software engineers, Game developers, Arcade owners, Real estate developers, Officials, Construction companies, etc.

Exhibitors
Exhibition Scope:
VR/AR game and entertainment; VR/AR education; VR/AR wearable devices;
VR/AR hardware; VR/AR system; VR/AR software; VR/AR technology;
VR/AR applications; VR/AR content VR & AR home decoration; Manufacturing equipment and accessories; etc.

EIN News
provides powerful, real-time media monitoring, news aggregation & syndication services. Read the latest news about this topic. See: