17th International Conference on Pathology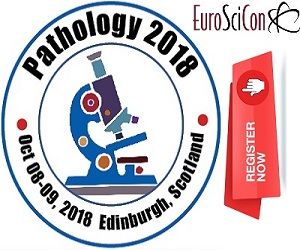 EuroScicon Ltd is glad to invite all the experts in the arena of Pathology to its premier 17thInternational Conference on Pathology(Pathology-2018), going to be held at Edinburgh, Scotland during October 08-09, 2018. The Theme of the conference is; Pathology: Recent advancements and future challenges.
The Pathology Conference 2018 brings together the pathologists from both Industry and academia to discuss the advancements and challenges in the broad sector of Pathology but not limited to Molecular Pathology, Cytopathology, Histopathology, Pathology Imaging, Clinical Pathology, Breast Pathology, Immunopathology, Cancer Pathology, Hematopathology, Microbial Pathology and Infections, Gynaecological pathology, Forensic Pathology, Chemical Pathology and all other allied fields.
This European Pathology Congress comprise of Plenary talks, Industry Presentations, Panel discussions, Q&A Rounds, Oral presentations, Workshops/Symposiums, Exhibitions, B2B, B2A, and Young Researcher Forums (YRF), Poster Presentations etc. in the arena of Pathology.
Website: http://pathology.euroscicon.com/
Emails: pathology@eurosciconconferences.com | pathology@eurosciconmeetings.com
Key Sessions at Pathology-2018
• Cytopathology And Histopathology
• Molecular Pathology
• Breast Pathology
• Surgical Pathology
• Clinical Pathology
• Cancer Cytopathology
• Liver Pathology And Gastrointestinal Pathology
• Gynaecological Pathology, Reproductive Pathology, & Uropathology
• Hematopathology
• Dermatopathology
• Soft Tissue And Bone Pathology
• Oral And Maxillofacial Pathology
• Pulmonary Pathology
• Forensic Pathology & Chemical Pathology
• Microbial Pathology & Infectious Disease Pathology
• Head And Neck Pathology
• Neuropathology
• Nephropathology
• Immunopathology
• Diagnostics Pathology
• Paediatric And Perinatal Pathology
• Ophthalmic Pathology
• Psychopathology
• Renal Pathology And Urinary Tract Pathology
• Experimental Pathology
• Autopsy Pathology
• Anatomic Pathology
• Digital Pathology And E-Pathology
Visitors
The Pathology Meeting 2018, Edinburgh, Scotland offers a platform for the Pathologists and experts both from Industry and Academia working in various sub domains of Pathology ranging from classical pathology to the advanced technologies and image analysis in Pathology including Pathological Diagnosis.

Professionals from Pathological Laboratories, Hospitals, and Academics:

Directors, Deans, Research Professionals, Laboratory heads, Lab managers, Lab technicians, Laboratory Professionals, Medical/ Biomedical scientists, Professors, Associate Professors, Assistant Professors, Research Practicing pathologist, Research Fellows, Medical students, Nurses, Residents, working in the arena of Pathology and its allied fields, but not limited to:

Cytopathology and Histopathology
Laboratory Medicine
Gastroenterology
Hematology
Oncology
Infection Control
Surgical Pathology
Clinical Pathology
Dermatopathology
Nephropathology
Neuropathology
Autopsy Pathology etc.
Exhibitors
Industry partners and professionals, vendors in the arena of :

Pathology
Diagnostic Devices
Imaging Products
Pathology Lab Equipment manufacturers
Commercial Diagnostics laboratories
Clinical Research Organizations (CRO)
Lab reagents, Assays and Kits suppliers
Pathology service providers etc.
EIN News
provides powerful, real-time media monitoring, news aggregation & syndication services. Read the latest news about this topic. See: