Nuclear Deterrence Summit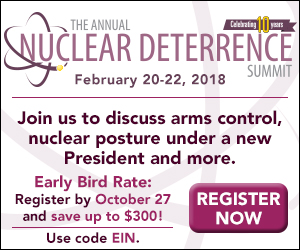 The 2018 Nuclear Deterrence Summit will bring together leaders from across the U.S. nuclear enterprise to discuss high-level policy recommendations as outlined in the administration's new Nuclear Posture Review (NPR). The final document, set to be released early in 2018 will assess plans for each leg of the nuclear triad, the nuclear warhead work at NNSA and the Nuclear Command and Control Requirements.

The review will detail the administration's priorities for modernization and how this effort will relate to the nation's policies on nonproliferation, arms control and keeping the nation safe from nuclear attack as well as continuing efforts by the Department of Homeland Security and Nuclear Detection Office to combat future nuclear smuggling and terrorism activities.

Celebrate our 10th anniversary with us in 2018!
Visitors
The Nuclear Deterrence Summit is a powerful relationship-building opportunity – giving you access to executives representing some of the world's most influential organizations and government agencies working in the nuclear deterrence and nonproliferation arenas. It's the premier event for nuclear deterrence decision-makers to network; get high-level strategic updates from high-profile and expert speakers who are moving the industry forward, and connect with one another to create business for 2018 and beyond.
Exhibitors
The Nuclear Deterrence Summit has the legacy and rich history of bringing together discussions on the path forward for the nuclear weapons complex and includes senior-level management and directors from the NNSA, its weapons labs, and sites nationwide.

Attendee Titles include:

Government and Laboratory Program Managers
Senior C-Level Management
Scientists/Physicists
NNSA Officials
Business Development Directors
Program Analysts
Technical and Software Engineers
Security Program Managers
And more!
EIN News
provides powerful, real-time media monitoring, news aggregation & syndication services. Read the latest news about this topic. See: