Carbon Capture, Utilization & Storage Conference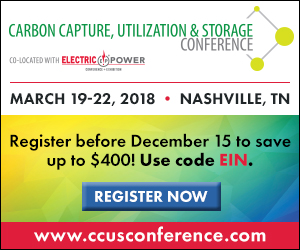 The CCUS Conference is designed for U.S. and international leaders, technical experts, researchers, and industry executives in the field of carbon capture, utilization and storage to gather and discuss efforts to decarbonize the energy and industrial sectors.

Visitors
This Conference brings together carbon capture and GHG reduction technology decision-makers, scientists, and government officials to network, get high-level strategic update, hear case studies on emerging technologies and connect on research in the industry to advance this important technology.
Exhibitors
A sponsorship or exhibit gives you onsite exposure in front of highly-qualified technical experts and government officials at the 2018 CCUS Conference – PLUS co-locating with ELECTRIC POWER Conference + Exhibition gives you access to thousands of more decision-makers from around the world. Don't miss the opportunity to align your brand with CCUS and ELECTRIC POWER attendees. We offer exciting opportunities that get you in front of a variety of audiences through powerful in-person meetings.
EIN News
provides powerful, real-time media monitoring, news aggregation & syndication services. Read the latest news about this topic. See: