Cancer Survivorship 2018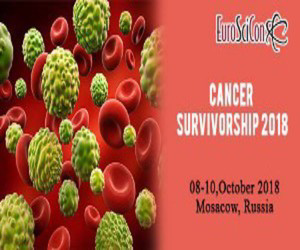 The 4th Edition of World Congress on Cancer Survivorship, Prevention and Management, will be organises in 2018 October 08-10, Moscow Russia by EuroSciCon serves an environment for scientist, Cancer survivors, advocates, program planners, students and public health experts to know about existing and evolving cancer survivorship research.

As theme of this Oncology conference Survivors of Cancer Swaying towards the Cure brings the idea of conducting the Cancer conference Cancer Survivorship, main discussion points will be based on the novel advancements in surgical oncology. This Oncology Conference includes Oral talks, Poster presentations, Exhibitions, and prompt keynote presentations. The tenacity of Cancer Survivorship Conference is to endorse interest, stimulate research, and promulgate information on all aspects of cancer science.
Visitors
Cancer research Students, Scientists
Cancer Researchers
Cancer research Faculty
Medical Colleges
Cancer Associations and Societies
Oncologists
Radiologists
Chemotherapists
Pathologists
Physicians
Business Entrepreneurs
Medical Devices Manufacturing Companies
Pharmaceutical Companies
Diagnostics Companies
Exhibitors
Drug manufactures, Clinical Trial Sites, Management Consultants, Chemists, Pharmacists, Business delegates and Equipment Manufacturers.
EIN News
provides powerful, real-time media monitoring, news aggregation & syndication services. Read the latest news about this topic. See: