Aviation Festival Americas 2018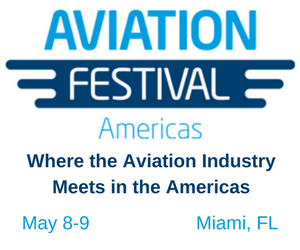 In its 13th year, the Aviation Festival Americas 2018 will continue to drive
innovation to the commercial airline industry. We're bringing together CEOs, CIOs, CCOs, and CMOs from low cost airlines, global carriers and airports – such as Spirit, Norwegian, American, Southwest, United, Seattle-Tacoma, Hartsfield-Jackson Atlanta and San Francisco International Airports.

2018 will feature a brand new Airport T.Ex track, where attendees will discuss the latest technology airlines and airports are implementing on the ground to enhance the customer journey from home to flight.

The event will consist of 5 tracks including:
• Aviation IT
• Aviation Strategy & Low Cost Congress
• Aviation Marketing
• Air Xperience
• Airport T.Ex

The event already boasts a phenomenal lineup of speakers, including the CIO of Alaska Airlines, the CTO of Charlotte International Airport, the Director of Innovation of United Airlines, the VP of Digital Innovation of AeroMexico, and the Director of TSA's Innovation Task Force.

The event will host over 100 different airlines and airports, creating a haven
to network and access key decision makers from around the globe.
By attending Aviation Festival Americas 2018, you will gain complete access to the real buyers and decision makers from the North and South American airline market.
Visitors
CEOs, COOs, CIOs, CFOs, and CMOs of airports and airlines. Additionally, CEOs, Heads of Business Development, Heads of Product and Marketing professionals of aviation vendors.
Exhibitors
CEOs, Heads of Business Development, Heads of Product, and Heads of Marketing for low cost airlines, global airlines, IFE providers, IT providers, and technology companies.
EIN News
provides powerful, real-time media monitoring, news aggregation & syndication services. Read the latest news about this topic. See: