GIDMC 2018 : Global Inclusive Disaster Management Conference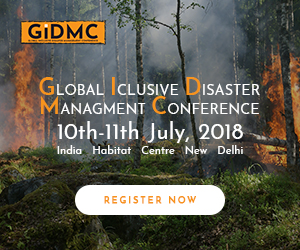 Global Inclusive Disaster Management Conference (GIDMC 2018) is the global event initiated by the ICONEX Exhibitions in support with PSU's like ONGC, Tata Motors, etc., industries, academia and more. The event is planned by steering committee and technical committee members consisting of HSE leaders from India and abroad. It is the first event of its kind towards inclusive disaster management.
The event positions itself as the mega show which would bring forth the discussions highlighting "How better we are prepared for Disasters". Preparedness to natural and industrial disasters with respect to technologies, policies, frameworks and partnerships. The objective to bring policy makers, technology providers, research institutions, user organizations, resilience officers and HSE practitioners at the same platform and bridge the knowledge gap. Revolving around the theme of "Managing Disaster Risks for Resilient Future" would envisage co-learning through sharing of knowledge and best practices, promoting interactions between different stakeholders and forging new partnerships and networks.
Visitors
Technology Providers
Educational Institutions
Research Organizations
Resilience Officers and Practitioners
Industries
Policy and Decision Makers
Exhibitors
NOCs/IOCs
Educational Institutions
Professional Bodies and Institutions
Crisis and Emergency Response Planning Organisations/Colleges
Consulting/Services
Environmental Technology/Pollution Control
Process Safety and Electrical Equipment/
Installations/Accessories
Ergonomics Specialists
Fire and Explosion Protection Specialists
Specialist Consulting and Agencies
Machine protection equipment manufacturer
Measurement – Regulation – Control Companies
Media/Training
Industrial & Occupational Hygiene including Noise, Vibration Air Quality
Occupational Health Specialist Organisations
Personal Protective Equipment Specialists
Prevention/Protection Specialists E.g. Hazardous Substance Response/Radiation Protection Specialists
Safe Devices/Safety Equipment/Security Organizations
Service/Maintenance/Consulting Companies
Technical Risk Assessment Specialists
Management System and Database Solution Providers
EIN News
provides powerful, real-time media monitoring, news aggregation & syndication services. Read the latest news about this topic. See: