Production Chemicals Optimization 2019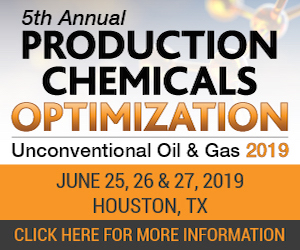 Following the huge turnout and resounding success of the fourth Production Chemicals Optimization conference, American Business Conferences proudly launches the 5th Annual Production Chemicals Optimization 2019, returning to Houston, Texas in June, with presentations and discussions led by E&P operators and chemical giants.
Visitors
This year's fully loaded three-day agenda is a direct reflection of the industry's most pressing issues, and features solution-driven case studies and discussions guaranteed to exceed the industry's expectations. Hear best practice case studies and participate in hard-hitting discussions led by E&Ps to cost-effectively monitor, treat and control Paraffin and Asphaltene, H2S, Corrosion And Scale, to optimize production and prevent equipment failures.
Exhibitors
Schlumberger
Clariant
CheckPoint Pumps & Systems
Pro-Ject
Hoover Ferguson Group
WellAware
TXAM Pumps
Detechtion Technologies™
Prosep
FieldEquip
Baker Hughes, a GE company
Jacam
Graco Inc.
EIN News
provides powerful, real-time media monitoring, news aggregation & syndication services. Read the latest news about this topic. See: