Plant Stem Cells Market to Witness a Rise in Revenue of US$ 801.9 Million By 2031 | Astute Analytica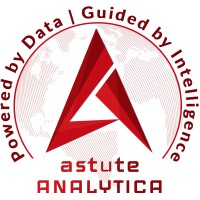 CHICAGO, UNITED STATES, September 18, 2023/
EINPresswire.com
/ -- The global
plant stem cells market
revenue was US$ 371.4 million. The global market is forecast to rise at a revenue of US$ 801.9 million by 2031, growing at a CAGR of 8.93% during the forecast period from 2023 to 2031.
𝐒𝐚𝐦𝐩𝐥𝐞 𝐨𝐟 𝐓𝐡𝐢𝐬 𝐒𝐭𝐫𝐚𝐭𝐞𝐠𝐢𝐜 𝐑𝐞𝐩𝐨𝐫𝐭@-
https://www.astuteanalytica.com/request-sample/plant-stem-cells-market
In recent years, the global plant stem cell market has experienced tremendous growth, solidifying its position in the larger biotechnology scene. This increase can be due to the rising demand from sectors like cosmetics and pharmaceuticals, which are utilizing the regenerative capabilities of plant stem cells to drive their respective businesses. Plant stem cells may be used to treat illnesses due to ongoing biotech research and innovation, which has increased their appeal.
The booming demand in the cosmetic and skincare sector is a significant factor in the global market. The value of the worldwide cosmetics market was US$ 262 billion in 2022 and is witnessing the highest CAGR of 4.3% during the forecast period. The industry dominated the market, with 47% of the market's revenue share.
Due to its renewing and anti-aging qualities, products infused with plant stem cell extracts have seen an increase in demand within this enormous sector. Approximately 70% of customers worldwide indicated in a recent survey that they would be prepared to spend more money on skincare products that claim to have rejuvenating properties, a market where plant stem cell-based products are seeing a boom. The yearly growth rate of just these products is 9.5%, which is higher than the average growth rate of the cosmetics sector.
The emphasis on ethical sourcing and biodiversity protection is a key trend that has begun to affect the global market. According to a 2022 poll, over 63% of consumers worldwide expressed worries regarding the source of the plant stem cells used in products and their environmental impact. This is due to an increased global focus on sustainable practices. As a result, a lot of brands have begun to react. The number of businesses that acquired certificates for products sourced ethically increased by 25% as of 2022. On the business front, collaborations between biotech companies and conservation organizations have increased by 40% over the last three years. Companies committed more than $260 million in 2022 to projects and innovations that promise the ethical extraction of plant stem cells without endangering natural ecosystems.
Pharmaceutical and Biotechnology Companies Attained About 60% of the Market Revenue Share
The pharmaceutical and biotechnology firms dominated the market, with a revenue share of more than 60% of the market's revenue in 2022. The scope and depth of their research endeavors serve as a strong indication of the pharmaceutical and biotechnology industry's dominance in the market for plant stem cells. Over 35% of global research efforts into using plant stem cells for medicinal purposes other than cosmetics have been started by these companies.
The use of AI and machine learning is another aspect of their domination. Nearly 40% of these businesses have begun utilizing AI-driven technologies to forecast the drug-development potential of diverse plant stem cells, speeding the pace of invention and cutting R&D expenses. Additionally, as these businesses explore the potential of plant stem cells, particularly those from root apical meristems, their research is expanding the range of possible applications.
North America Accounted for About 53% of Overall Revenue Share
North America, specifically the U.S., has become a major force in the plant stem cell industry by controlling a 53% revenue share. This leadership is a result of a strong research infrastructure and significant R&D spending, which reached a noteworthy US$ 1.5 billion in 2022 alone.
Due to its advanced biotechnology sector, the United States is leading the charge. Recent advancements in the subject, particularly in Europe and the United States, include discoveries that expand the use of plant stem cells in anti-aging treatments and lotions.
According to a 2022 survey, 65% of North American consumers have demonstrated a propensity towards products injected with plant stem cells due to a populace interested in discovering fresh skincare and health solutions. Additionally, North America has a robust regulatory system that, despite being strict, has helped to foster customer confidence. In fact, approximately 70% of consumers in the area stated that they had more faith in items that had successfully negotiated the challenging regulatory landscape, reaffirming their safety and effectiveness.
𝐀𝐜𝐜𝐞𝐬𝐬 𝐭𝐨 𝐌𝐨𝐫𝐞 𝐅𝐮𝐥𝐥 𝐃𝐞𝐭𝐚𝐢𝐥𝐞𝐝 𝐑𝐞𝐩𝐨𝐫𝐭@-
https://www.astuteanalytica.com/industry-report/plant-stem-cells-market
Competitive Landscape
There are several significant competitors in the moderately competitive plant stem cell industry. Several of the top companies, including AllCells, LLC, Intelligent Nutrients, Juice Beauty, and TheGreenCell, currently hold the majority of the market share.
Prominent Players in Global Market
• Aidan Products LLC
• AllCells, LLC
• Intelligent Nutrients
• International Stem Cell Corp.
• Juice Beauty
• L'Oreal S.A.
• Mibelle Biochemistry
• MyChelleDermaceuticals LLC
• Oriflame Cosmetics Global SA
• PhytoScience Sdn Bhd
• TheGreenCell
• Vytrus Biotech
• Other Prominent Players
Segmentation Outline
The global plant stem cell market segmentation focuses on Location, Application, End-User, and Region.
By Location
• Root Apical Meristems
• Shoot Apical Meristems
By Application
• Nutrition
• Pharmaceuticals
• Cosmetics
By End User
• Pharmaceutical and Biotechnology Companies
• Research Laboratories
By Region
• North America
o The U.S.
o Canada
o Mexico
• Europe
• Western Europe
 The UK
 Germany
 France
 Italy
 Spain
o Rest of Western Europe
• Eastern Europe
 Poland
 Russia
o Rest of Eastern Europe
• Asia Pacific
o China
o India
o Japan
o Australia & New Zealand
o South Korea
o ASEAN
o Rest of Asia Pacific
• Middle East & Africa (MEA)
o Saudi Arabia
o South Africa
o UAE
o Rest of MEA
• South America
o Argentina
o Brazil
o Rest of South America
𝐃𝐨𝐰𝐧𝐥𝐨𝐚𝐝 𝐑𝐞𝐪𝐮𝐞𝐬𝐭 𝐒𝐚𝐦𝐩𝐥𝐞 𝐂𝐨𝐩𝐲 𝐨𝐟 𝐒𝐭𝐫𝐚𝐭𝐞𝐠𝐢𝐜 𝐑𝐞𝐩𝐨𝐫𝐭@-
https://www.astuteanalytica.com/request-sample/plant-stem-cells-market
𝐀𝐛𝐨𝐮𝐭 𝐀𝐬𝐭𝐮𝐭𝐞 𝐀𝐧𝐚𝐥𝐲𝐭𝐢𝐜𝐚:
Astute Analytica is a global analytics and advisory company that has built a solid reputation in a short period, thanks to the tangible outcomes we have delivered to our clients. We pride ourselves in generating unparalleled, in-depth, and uncannily accurate estimates and projections for our very demanding clients spread across different verticals. We have a long list of satisfied and repeat clients from a wide spectrum including technology, healthcare, chemicals, semiconductors, FMCG, and many more. These happy customers come to us from all across the globe.
They are able to make well-calibrated decisions and leverage highly lucrative opportunities while surmounting the fierce challenges all because we analyze for them the complex business environment, segment-wise existing and emerging possibilities, technology formations, growth estimates, and even the strategic choices available. In short, a complete package. All this is possible because we have a highly qualified, competent, and experienced team of professionals comprising business analysts, economists, consultants, and technology experts. In our list of priorities, you-our patron-come at the top. You can be sure of the best cost-effective, value-added package from us, should you decide to engage with us.
Aamir Beg
Astute Analytica
+1 888-429-6757
email us here
Visit us on social media:
Twitter
LinkedIn