DIDWW and VitalPBX team up to deliver premium VoIP and PBX services
/EIN News/ -- DUBLIN, Ireland, Nov. 21, 2023 (GLOBE NEWSWIRE) -- DIDWW, a global telecom operator specializing in premium quality VoIP communications, two-way SIP trunking, and SMS services, has become a strategic voice partner with VitalPBX, a leading provider of unified communications PBX systems based on Asterisk. This collaboration enables VitalPBX users to seamlessly access DIDWW's SIP trunking and SMS services, thereby enhancing their communication capabilities.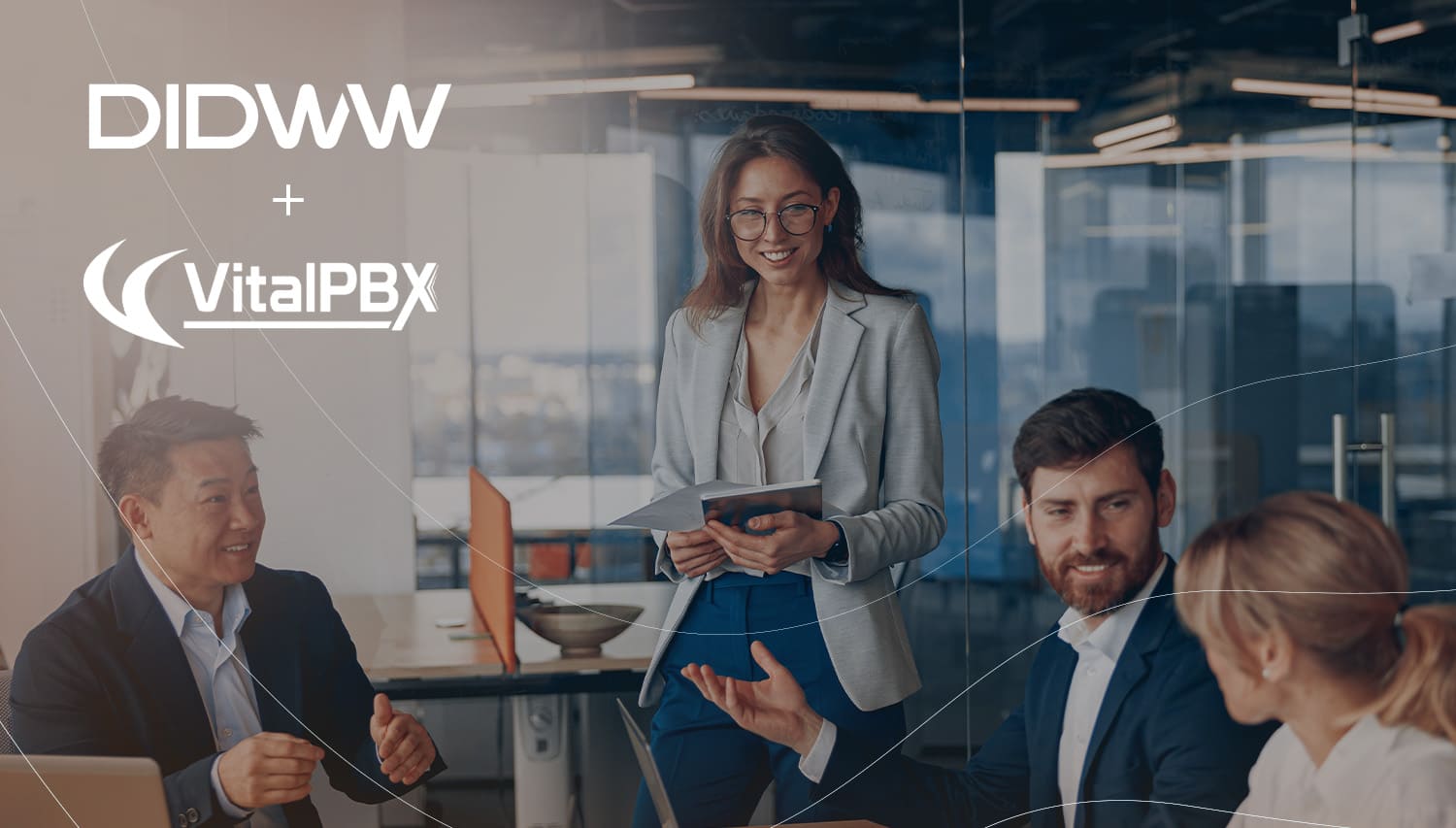 The integration of DIDWW services with VitalPBX delivers significant advantages to any business, boosting their communications functionality and efficiency. The PBX provider offers a premium telephony experience by equipping users with a comprehensive and well-documented PBX system that includes essential features such as IVR, queues, announcements, call routing, extensions, and more. In addition, users can select their preferred VoIP providers from within the self-hosted VitalPBX system.
Through this partnership, VitalPBX customers are able to access DIDWW's extensive coverage of local, national, mobile, and toll-free virtual phone numbers in over 80 countries, along with two-way SIP trunking and text messaging. The DIDWW SIP trunking solution enables companies of any size to leverage fully compliant voice services with virtually unlimited call capacity, flexible SIP trunk settings, truly local dialing, and premium audio quality.
Joseph Montes, Channel Manager of VitalPBX, expressed enthusiasm about the collaboration, stating, "Our partnership with DIDWW opens a new chapter in delivering exceptional VoIP and PBX solutions. We are thrilled to combine our cutting-edge PBX system with DIDWW's vast network infrastructure, empowering businesses to achieve greater productivity, connectivity, and communication efficiency."
Ingrida Mikutaityte, Senior Account Manager at DIDWW, said, "We are pleased to join forces with VitalPBX, offering users a seamless integration of cutting-edge communication solutions. This collaboration reinforces our commitment to delivering premium VoIP services for businesses of any size and enables users to expand their communications across different geographies."
About VitalPBX
VitalPBX is a Unified Communications PBX System based on Asterisk and is developed by the in-house team at VitalPBX, LLC. With its rich set of features, scalability, and flexibility, VitalPBX empowers businesses to communicate and collaborate effectively while lowering costs and increasing productivity.
VitalPBX is trusted by organizations across various industries to deliver advanced, reliable, and future-proof communication solutions.
To learn more about VitalPBX, please visit https://vitalpbx.com/.
About DIDWW
DIDWW is a platform for telecommunication professionals with full self-service access and real-time provisioning, APIs, and all the necessary building blocks for achieving ultimate control over Voice and SMS services.
The company offers the largest fully compliant international coverage of local, national, mobile, toll-free voice, and SMS-enabled virtual phone numbers, two-way local and global SIP trunks, access to local emergency services, flexible capacity options, free global number portability, a number selection tool, and more.
DIDWW delivers premium quality services to thousands of operators worldwide through a private and fully geo-redundant network with mission-critical reliability and guaranteed SLAs. Their customers enjoy advanced solutions coupled with a unique service experience and superior value, all driven by a highly motivated team of professionals.
To learn more about DIDWW, please visit https://www.didww.com/.
Press Contact:
Vilija Simkiene
Marketing Department
vilija.s@didww.com
+1 (212) 461 1854
www.didww.com
A photo accompanying this announcement is available at https://www.globenewswire.com/NewsRoom/AttachmentNg/0fe524f1-41c9-45cc-862c-eaf86a4ec117