Shanghai International Lighting Fair (SILF)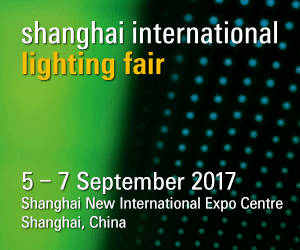 The Shanghai International Lighting Fair focuses on project-based opportunities and smart lighting solutions available across Central and Eastern China. In 2016, the exhibition ended with visitor figues up for the third consecutive year in a row. Over the course of three days, a comprehensive display of the latest lighting technologies for industrial, residential and commercial applications was showcased at the Shanghai New International Expo Centre.

For 2017, more technical seminars on design, planning, implementation and smart technology will be featured.
Visitors
A diverse pool of 11,958 visitors including designers, planners, system integrators, engineers, property developers and many other project-based buyers from 49 countries and regions (SILF 2016)
Exhibitors
Over 100 notable brands including CRETOP, Dilux, ERP, GZ Arex Electronics, Mean Well, SUNPU, Sunwea, TongYiFang, VENTO, YD Illumination, Yueming and several others (SILF 2016)

Product categories:
Urban and street lighting
Architectural and landscape lighting
Residential lighting
Outdoor lighting applications
Commercial lighting applications
Lighting accessories and LED technologies
EIN News
provides powerful, real-time media monitoring, news aggregation & syndication services. Read the latest news about this topic. See: